Christian Dotremont
 Introduction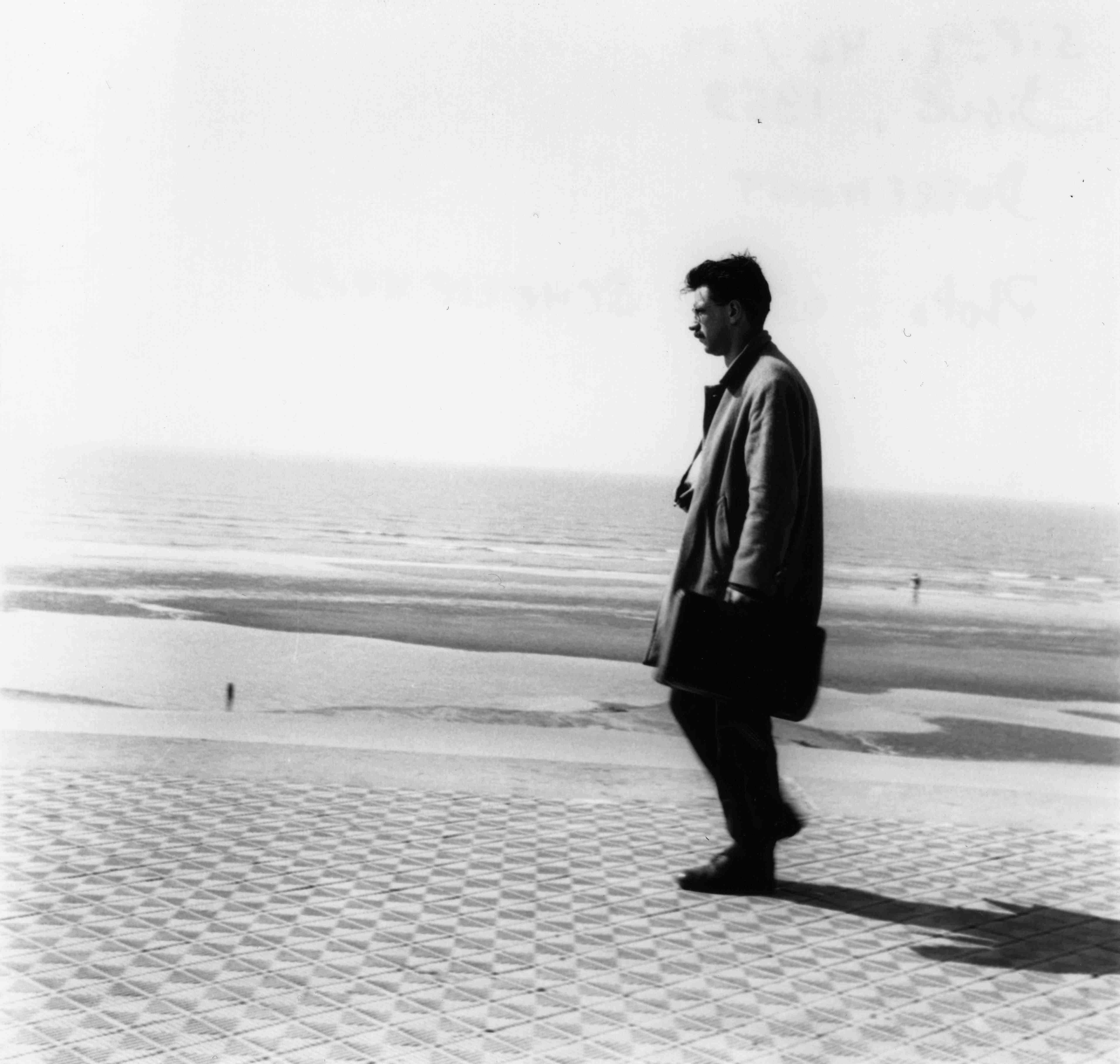 Christian Dotremont sur la digue d'Ostende (Photo O.Schellekens c)
Beyond his important poetic work, Christian Dotremont also developped an important graphic work, including the 'logogrammes', a sort of abstract calligraphy..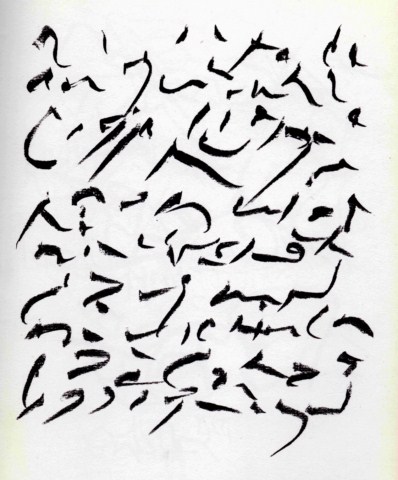 Logogrammes by Christian Dotremont (C Guy Dotremont)
In one of his most remarkable collaboration with Cobra artists such as Jorn, Alechinsky, Vandercam, and others, Dotremont started to write poems on their pictures and sculptures. He acted as a kind of catalyser. Those works are now considedred as amongst the strongest of the Cobra movement.
One day there was this wonderful poem  'Digues'. This curious little book contains an abstract poem of about twenty pages. It was ended in 1957 and published in Octobre 1959. The original print – today a collector's item – contains photos taken by Oscar Schellekens. Himself and Serge Vandercam, both photographer, went with Dotremont on the seawall in Ostend, in order to take pictures of him. There was this sort of  'happening' because both photographers were turning around Christian..
A logogramme,   « Rien qu'à entendre cette pluie… » taken from the book Logogramme II, is presented as a 'score' to the cellist, and is simultaneaously projected on a screen, therefore also an essential part of the set. The cellist reflects the movements of the  'logogrammes', in order to produce an expression dynamic. The concert happens in front of those 'logograms' as well as the famous pictures of  'Digue'.
Concert-Musical Theatre: The students and teachers of the Conservatoire Royal de Mons, Directeur: André Foulon.
With Mathilde Sevrin: Soprano /Angelique Charbonnel: cello /  Magali Rischette & Adrien Brogna: Guitares. With the collaboration of Jean-Philippe Collard-Neven, Chambre music teacher.
Création: Chant 1 Exposition Dotremont, Musée des Beaux-Arts de Mons. Complete work (Chants 1 à 5)  Musées d'Ixelles, Samedi 3 Septembre, 11h, during the exhibition of 'Les Dotremont d'Alechinsky'. With the kind help and authorisation of Guy Dotremont, Talia & Joel Vandercam, Pierre Alechinsky,  and the Musée d'Ixelles.