A performance featuring music, jazz music , classical choir, dance and story telling about the jungle of Africa (also Bengal), the metaphoric  animal short stories, the Ishango bone, as well as political subjects such as the child or the woman of Africa
Video of 'Shuopoka' on YouTube    https://youtu.be/c1keZ6gPdhM?si=6q_kNDiCh9Kgyxkz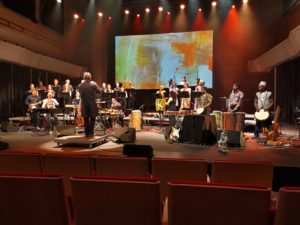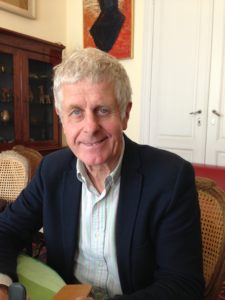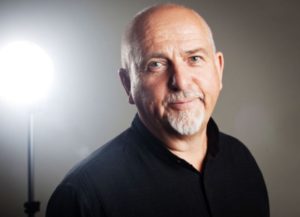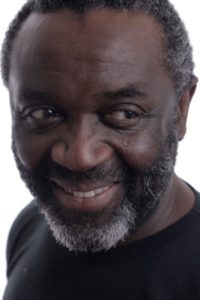 Musical themes
Composed
by  Daniel Schell, Peter Gabriel,  Chris Joris and Ange Nawasadio.
Choir Music written by Daniel Schell on the text of various poets from Africa – Gcina Mhlophe (South Afrika, in Zulu), Chirikure Chirikure (Zimbabwe, in Shona), Titinga Pacere (Burkina Faso, in More), – and India – Lokenath Bhattacharya (Bengal, in Bengali).
Musical Director: Dirk Brossé.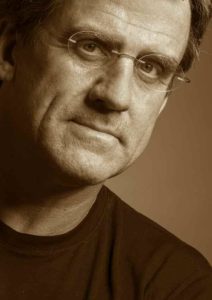 Artistic Producer: Pascal Noël
Cavema, Choir of Namur, Producer: Jean-Marie Marchal
Visuals: Fabienne Penninck
Part of the NAFRICA Festival
Features: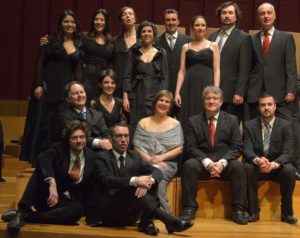 Soloist: Mezzo Raphaëlle Green
Jazz Musicians with Fabrice Alleman (sax), Marco Locurcio (guitar, electronics), Chris Mentens (bass), Michel Seba (drums).
The Choeur de Namur with Soprano -Aurélie CASTIN, Marie-Agnès JEAN, Lucie MINAUDIER, Amélie RENGLET/ Alti-Pauline DE LANNOY, Sonia JACQUELIN, Julie VERCAUTEREN/ Tenors:Murielle Maria, Andreas HALLING, Branislav RAKIC, Michael L. SMITH, – Basses : Laurent BOURDEAUX, Sergio LADU, Alberto MARTINEZ, Samuel NAMOTTE
The African Choir with Ange Nawasadio (story teller), Amel Sdiri (Choir Director) Sylvie Nawasadio, Kwame Nawasadio, Madina Dicko, Zil Zuh, Diane Sangaré, Blandine Mushiya Luabala..
African Percussion Ensemble with  Zenon Kazanzi, Manu Niekemia, Manu Nicaba (jembe, various melodic instruments).
Scientific advisor: Dirk Huylebrouck, Vladimir Pletser
CD: 'Ishango' Lyrae, Universal. Choeur de Namur (70 singers)Dir. Denis Meunier, , Chris Joris Ensemble. Dieudonné Kabong Ensemble.
Album Oratotio Ishango
The Oratorio Ishango was created in Palais des Beaux-Arts, Brussels, in November 2001, under the Direction of Denis Meunier. Then Maison de la Culture d'Arlon, September 2003, Capitole, Ghent November 2003. Théatre St Michel, Brussels, Nov 2003. Zuiderspershuis, Antwerp, December 2003.

Choir from Namur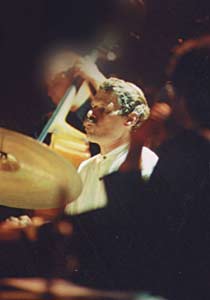 Chris Joris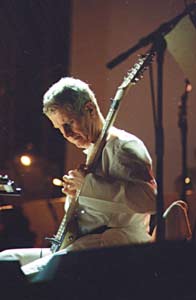 Daniel Schell
The Ishango bone as an inspiration source
One of the interesting aspects of the Ishango bone is that it is engraved with bars which could be part of a mathematical enigma. We could have established a direct correspondence between the mathematics of the bone and the music. For instance, we could have used groups of 6 bars, followed by then 10, 12, establishihing a direct mapping between the bars of the bones and the bars of the music. But such process seems childish and  is not to be found in the composition. The approach we used, and found more interesting,  is to consider that the bone is a sign of intelligence in the early Africa, and that similar signs could be found today in the memoria humana, for instance in traditional stories and tales.  In order to investigate this hypothesis, we have contacted prominent poets, mostly of Africa, and one of Bengal ( Bengal has also a jungle) and asked them for stories having a character of an archetype. We have discovered with them many metaphoric stories about the jungle, the animals, or the social characters. Some of them, like the story of the two eyes of the lion (see Pacere), seemed to us as old or even older than the Ishango bone…In this respect, we have considered that the engravings of the Ishango bone just tell us one of these eternal tales.
Poets of the spectacle Ishango
The texts of the following poets have been set into music by Daniel Schell for the Choeur de Namur, in order to create the spectacle Ishango.
Gcina Mhlophe
South Africa.  Languages Zulu and English.
Singer, story-teller and poet.
Very popular in South Africa, she is the author of numerous  tales on the animal world. She is also a politically active figure in the defence of African women's rights.
In the spectacle : African Woman, U fudukazi the tortoise.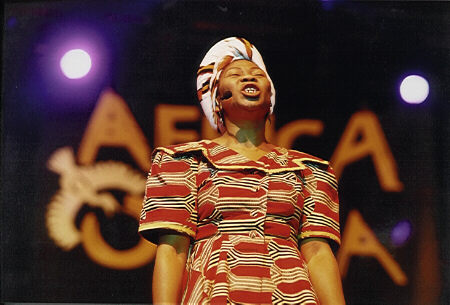 Gcina Mhlophe
Chirikure Chirikure
Zimbabwe. Languages Shona and English.
Born 1962. In a rural area of Zimbabwe, in a Christian family but also close to traditional. Writes poems in Shona and presents them in High School. After his University graduate, he starts to perform all over the country and presents his poetry either with Traditional mbira band, or with an electric modern band.
Being a performer himself he plays for middle class audiences, and so he regrets that he does not touch the people from the villages. He considers himself as the poet of a Society in transition
His poetry is studied at Oxford and other known Anglo-Saxons Universities.
Music: Daniel Schell on themes by Chris Joris.
In the spectacle : Lizzards for fish, Mhakure the Cobra.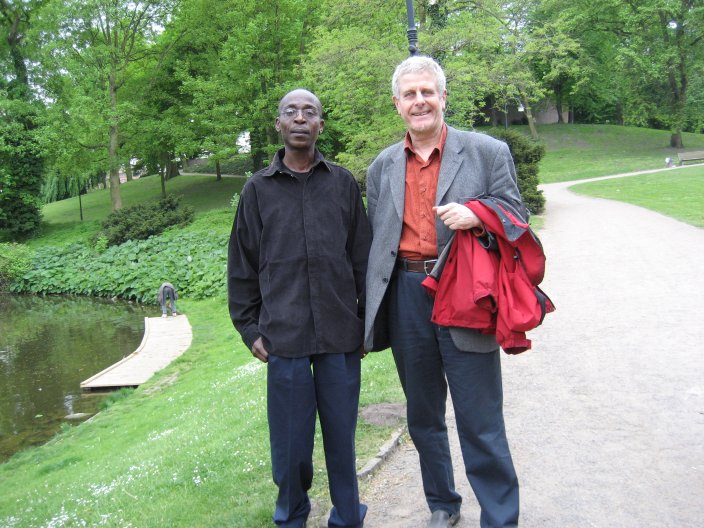 Chirikure and Daniel Schell (Photo Clic Music)
Titinga Frederic Pacere
Burkina Faso. Languages More and French.
Writer of poetry  and ethnography treaties on the meaning of masks, the language of tam tam and the practises of the More people. Pacere has been one of the most important contributor on the Ishango project. Specially important is the usage of tam-tams as a mean and language of communication in and between the village-s.  In his poetry 'The Ishango bone' , Pacere suggests that column 1 and 3 of the bone sum up to 60, but column 2 to 48 . He asks 'Where is the difference' suggesting poetically a difference of 12, which is in fact the base of the antique  calculation.
He founded the Museum of African Masks in Ouagadougou.
He is active in the defense of Human Rights in Africa. The Unicef has asked him to write a poem on the African child.
In the spectacle :Kamaange Le chien voleur, Nina Yibu Le lion,  Le poème du tam-tam, Il est des enfants, The Ishango Bone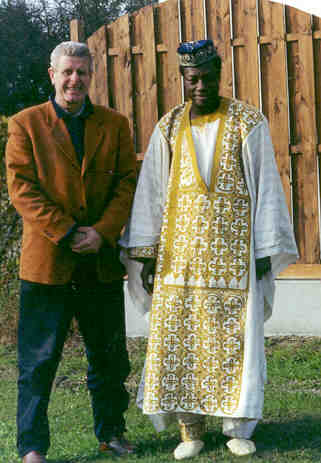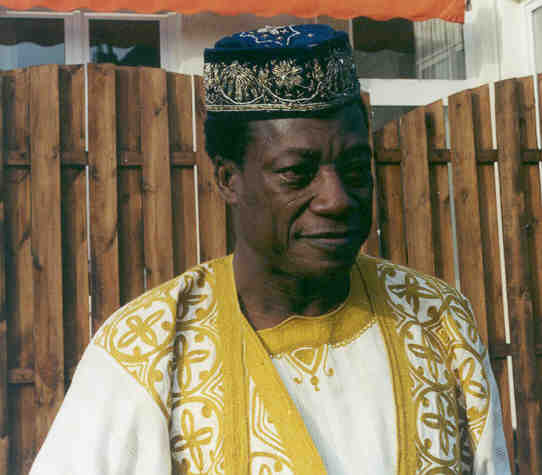 Daniel Schell & Titinga Pacere (Photo Clic Music)
Lokenath Bhattacharya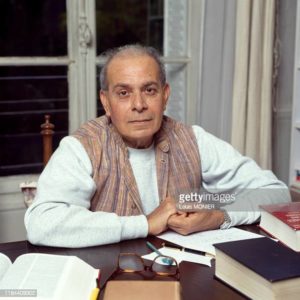 India (Bengal), France. Language: Bengali.
This well known poet has a large oeuvre. He has translated the poetry of Henri Michaux in Bengali language. Living in Paris, he represented there the Bengali litterary life.
He died recently in Egypt in a car accident.
In the spectacle : Shuopoka, la chenille.
The bone of Ishango
The bone of Ishangowas found in Africa in the years 1950 by Professor Heinzelin. It was situated in the village of Ishango, at the source of the Nil, between congo and Ouganda.  It is 20.000 years old and can be considered as one of the first sign of a human intelligence. It is covered by marks – bar codes? –  which could be a  remarkable mathemathical enigma. It can be seen in the Museum of Natural History, Rue Vauthier in Brussels. Recently, the City of Brussels, has choosen the Ishango bone as a symbol of fraternity against racism.
Dirk Huylebrouck has written extensively over the Ishango bone. His most recent contribuution is in Kadath, April 2003 (in French).
The mathematics of the bone
Aparent number of bars per column (not always clear)
1st column 11  – 13 – 17 – 19
2d column 3 – 6 – 4 – 8 – 10 (grouped as 9 + 1 ) – 5 ( grouped as 1 + 4 ) – 5 – 7
3rd column  11 – 21 – 19 – 9
Possible Operations
In base 6
1st col 11=12-1 13=12+1 . 17=18-1 19=18+1
In base 12
The Sum per column: 60. 48 , 60
1st col:11 + 13 + 17 + 19 = 60
2d col: 3 + 6 + 4 + 8 + 10 + 5 + 5 + 7 = 48
3rd col: 11 + 21 + 19 + 9 = 60
with 60 = 5*12  and  48=4*12
In base 10
3rd col : 11=10+1 21=2*10+1   19=20-1  9=10-1
2nd col : 6+4=10  7+3=10   5+5=10 .
multiplication by a factor of 2
All these calculations are speculations. The correspondence is not always uniform on the bone. For instance not all pair of numbers of column 2 sum up to 10. The number of bars is also not absolutely clear on the bone. Nevertheless, there is a remarkable evidence of intelligence and the possibility of a counting process, maybe in base 6/12, and that some 20.000 years ago. And that was enough to trigger our poetical creativity.
Notes by Daniel Schell